"Under My Roof" and all of the Together in Jesus music that can be used for Reconciliation, Confirmation, and Eucharist can be found in the Together in Jesus Accompaniment Book and 2-CD Set.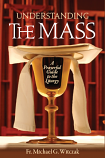 A Prayerful Guide to the Liturgy
Why do we kneel in church? How are the Scriptures readings like family stories? What does incense symbolize?