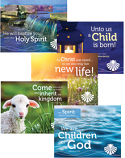 Remember the family of a child baptized at your church with this five-card "The Shepherd Guides" set. The cover of each greeting card has words of an appropriate Bible verse. Inside is a special prayer, a kind sentiment, and a space for a personal note. Set of 5 cards and envelopes with an organizing cover-envelope for easy filling.

Purchase individually or as part of our five-card "The Shepherd Guides" baptismal set (GU1A). Celebrate the wonderful day of baptism with a family at your church with words of a Bible verse, a special prayer and a kind sentiment.

"Under My Roof" and all of the Together in Jesus music that can be used for Reconciliation, Confirmation, and Eucharist can be found in the Together in Jesus Accompaniment Book and 2-CD Set.