A Child's Mass Book
Here's a fun, reverent and educational way to help children celebrate the Eucharist. Activities to develop understanding of the Mass are arranged in an easy-to-follow sequence that parallels the progression of the Mass.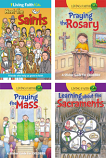 Buy a set of all 15 Living Faith Kids sticker books for $18.95 and save over $9.00 per set!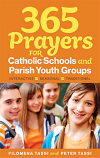 In this comprehensive resource, you'll find prayers for a wide range of topics relevant to teenagers, from dating to decision-making, and from prom to finding your purpose in life.