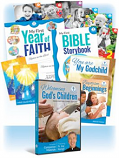 Welcome your youngest and newest parishioners and their families as they prepare to receive the Sacrament of Baptism. This unique kit is designed to expand current Baptism programs and to add to your family faith formation in a long-lasting and connective way.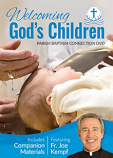 Share this DVD, featuring Father Joe Kempf, at the Baptism preparation class in addition to the more formal instruction that parents receive. Included in this 2-disc set is a CD-ROM with a "How-to-Use" Leader's Guide, nursery roll spread sheet and reproducible Parish Connections Newsletters, designed to be sent to families throughout the first six years of the baptized child's life.

Each Family Packet includes resources you can use to build a strong connection between the parish and the family of a recently baptized child, all housed in a sturdy and easy-to-file envelope.