A Child's Mass Book
Here's a fun, reverent and educational way to help children celebrate the Eucharist. Activities to develop understanding of the Mass are arranged in an easy-to-follow sequence that parallels the progression of the Mass.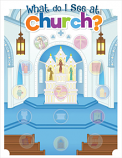 A Sticker Sheet Treasure Map for Children
Invite the youngest children in your parish to learn about and explore their Catholic church with this treasure map sticker resource designed especially for them. A brief explanation of each item featured on the sanctuary map is included on the back.
NEW!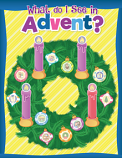 A Sticker Sheet Treasure Map of Advent Images
Introduce the young children in church to the sights, sounds and symbols of the season with this engaging Advent wreath poster and sticker sheet combo.