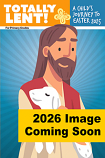 A Child's Journey to Easter
Engage young Catholics in a Lenten journey that is guaranteed to enrich their faith and foster their spiritual growth. These "guidebooks" − available in three age-appropriate editions − are perfect supplements for parish religious education programs or school religion classes.
*Seasonal books are dated and not returnable.