Reproducibles are in four sections: We Belong, We Listen and Believe, We Pray and Remember, We Share and Follow Jesus.
32 pages, 8 ½' x 11"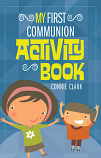 My First Communion Activity Book reinforces catechetical teaching with clear explanations of various parts of the Mass and their meanings. Scripture memory versus and suitable prayers for First Communion, and Follow-up activities to engage families.