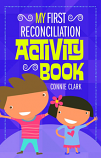 My First Reconciliation Activity Book reinforces catechetical teachings on many subjects including : What's needed for a good confession. How to go to confession, How to make good decisions (based on the Ten Commandants).

Reproducible are in five sections: Recognizing Sin Who Says? (teachings of Jesus and the Church), Seeking Forgiveness, How to Go to Confession, Following Up.
32 pages, 8 ½" x 11"