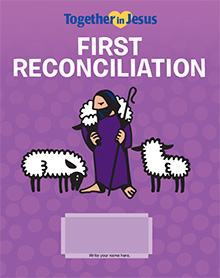 Together in Jesus Program
Lessons focus on biblical stories about Christian living -- including the Good Samaritan, the Ten Commandments, the Sermon on the Mount, and the Prodigal Son - to help children appreciate that God loves them and is always ready to forgive them. Activity stickers help children relate the stories to their lives.

A year-round reminder of their reception of the sacraments, these colorful bookmarks are a great gift for those celebrating First Eucharist.