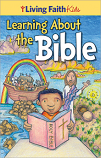 The Bible is a gift from God—to children and the whole world! New colorful stickers and activities help children appreciate that the Bible is filled with stories, adventures, letters, and much more. Starting with Adam and Eve and meeting fascinating people along the way until we get to God's own Son, Jesus, readers become hooked on God's great book!
New!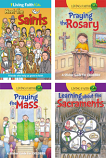 Buy a set of all 15 Living Faith Kids sticker books for $18.95 and save over $9.00 per set!

Packed with fun, Meet Mother Teresa is engaging and informative. The colorful artwork and activity stickers make learning about one of the most beloved saints and enjoyable and absorbing experience, and teaches children how they can be more like a saint. Show children how this "little nun" - with signature humility, compassion and great love for all - made such a giant impact on the world!