A Child's Mass Book
Here's a fun, reverent and educational way to help children celebrate the Eucharist. Activities to develop understanding of the Mass are arranged in an easy-to-follow sequence that parallels the progression of the Mass.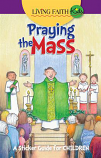 Young children (4-8) will have fun as they learn the basic parts of the Mass and the people's responses with this interactive sticker booklet. Following along with a parent or teacher, children apply colorful stickers as they learn about each of the prayers and elements of the Mass. When completed, the booklet will serve children well as a participation aid, one they have made themselves! Published with the approval of the Committee on Divine Worship, United States Conference of Catholic Bishops.

Inspire children to a truly devotional participation in the Mass with this new first missal. Colorful illustrations lead them, step by step, through the Order of the Mass. Color-coded text − priest's words, cues for actions, responses − ensures that young Catholics will be able to participate in their community's celebration.