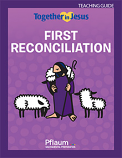 Step-by-Step for Each Lesson
This guide includes tips for getting organized plus step-by-step plans for each lesson. Annotated illustrations of the children's handouts guarantee teaching directions will be easy to follow and lessons will be successful. Reproducible prayer rituals for each lesson reinforce the power of prayer in all that we do.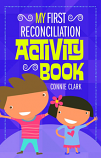 My First Reconciliation Activity Book reinforces catechetical teachings on many subjects including : What's needed for a good confession. How to go to confession, How to make good decisions (based on the Ten Commandants).